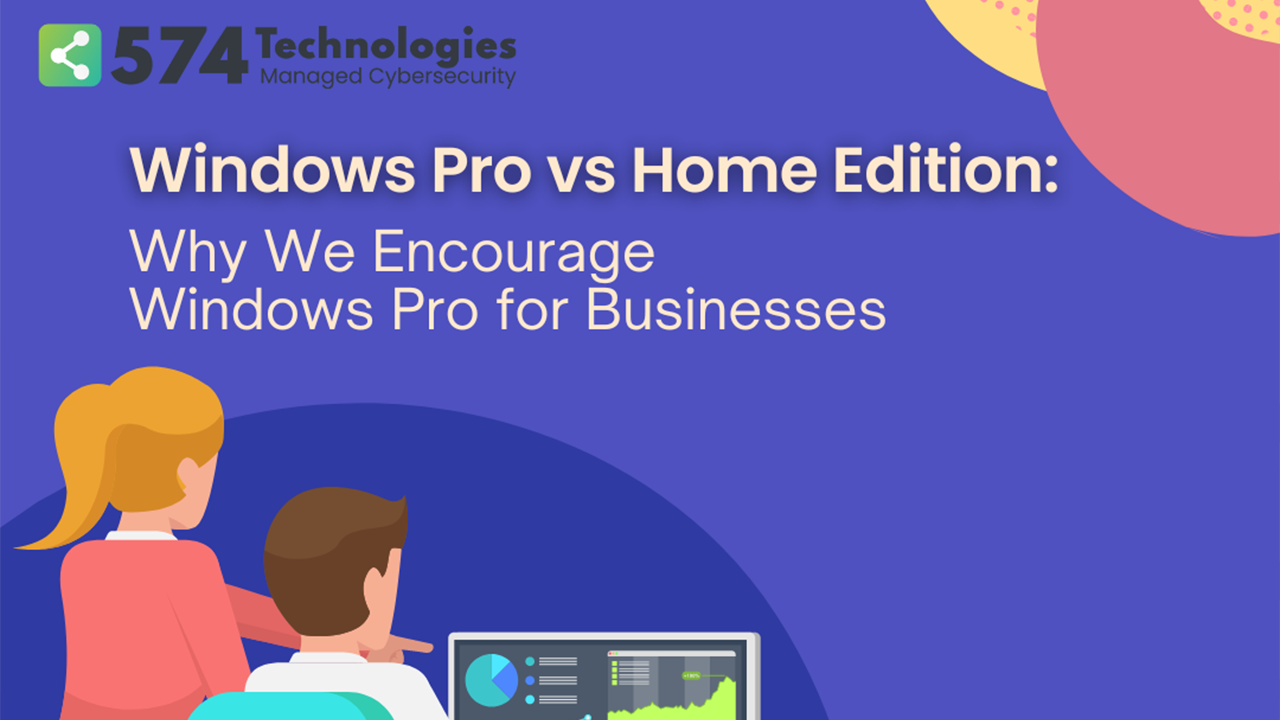 Windows Pro vs Home Edition: Why We Encourage Windows Pro for Businesses
Building a new startup company from the ground up isn't an easy task. New business owners are constantly on the look out for ways to save both time and money. Keeping track of all the new documentation, contracts, and other business data can be overwhelming, costly, and present several challenges.
Security
Don't get us wrong, Windows Home is a robust and secure operating system. It's equipped with device encryption, firewall and network protection, internet protection, secure boot, and of course Windows Defender Antivirus. Windows Pro, however, includes everything from Windows Home and more. The Pro license also includes BitLocker device encryption and Windows Information Protection (WIP).
BitLocker is a data protection feature that protects your valuable data in the event a device is lost, stolen, recycled, etc. This prevents unauthorized access to the device, and even protects your data if a hard drive were to be swapped to another device. WIP is a Windows feature that helps prevent enterprise data from being shared in the wrong places or devices. Admins can create policies that notate company documents as such, and can either disallow or warn users that they may be inserting enterprise data into say, a personal document, email, etc.
While these are the two main security distinctions between Windows Home and Pro, there are several more security-related benefits gained with Pro that we'll later discuss in the Business Management and Deployment section of this article.
Fundamentals
All the basic functionality that you would expect from Windows, or any operating system for that matter is included in both editions of Windows. Regardless of which you choose, you will still be able to access Microsoft Edge, Cortona, mobile and voice integration, digital pen and touch capabilities, and more. Windows Home can still be a great option for even power users that run resource-heavy software, that may simply not need the additional level of security offered in Pro. The core differences between the two really do surround business security enhancements.
Business Management and Deployment
Keeping all your organization's employees and their devices up to date, secured, connected, and synced requires a lot of time and staff resource. With added security, productivity, and management features, Windows Pro sets itself apart from Windows Home, gearing up your organization for business. These features will help your organization save time and money, while also increasing your IT staff's productivity and efficiency. This section is entirely exclusive to Windows Pro, as none of these features are included with the Windows Home license:
• Mobile device management: Windows 10 mobile device management (MDM) provides an alternative to traditional PC management processes: you can transition to cloud-based management at your own pace.
• Group Policy: Manage PCs, user accounts, and groups, and get easy access to files and printers when you pair Windows 10 Pro with Windows Server. You can even define specific security and networking policies for your users and devices.
• Enterprise State Roaming with Azure: Available to any organization with an Azure AD Premium or Enterprise Mobility + Security (EMS) license, Enterprise State Roaming provides users with a unified experience across their Windows devices and reduces the time needed for configuring a new device.
• Microsoft Store for Business: Your one place to find, manage, and distribute apps to Windows 10 devices in volume.
• Assigned Access: With Assigned Access, Windows 10 Pro devices run different applications depending on the user and keep individual identities separate and secured.
• Dynamic Provisioning: With Dynamic Provisioning you can take a new PC out of the box, turn it on, and transform it into a productive organization device, with minimal time and effort.
• Windows Update for Business: Windows Update for Business can help businesses reduce management costs, provide control over update deployments, enable more efficient delivery of updates, and provide access to the latest innovations from Microsoft.
• Kiosk mode setup: Configure a device in kiosk mode in a very simple way. You can do this locally on the device or remotely using Mobile Device Management.
• Support Active Directory: Domain Join + Group Policy: IT staff can easily manage PCs, user accounts and groups, security policies, and get easy access to files and printers when you pair Windows 10 Pro with Windows Server. You can even define specific security and networking policies for your users and devices.
• Support for Azure Active Directory: Employees can use a single login across Windows 10, Microsoft 365 (sold separately), and other Microsoft services, making logons and passwords easier to manage. The shared logon works on PCs, tablets, and phones with minimal IT involvement.
Recap
Windows Home is a great operating system and will well serve any standard computer user. If you're using your computer for business, we strongly believe the added features of Windows Pro justify the investment.
Schedule a consultation